Mediators
mediationcenter works exclusively with mediators who share the same working philosophy; the win-win paradigm, based on a complete understanding of the interests of the parties involved.
Tina Monberg
My background as a qualified solicitor, psychotherapist and corporate lawyer has given me a unique insight into the potential for mediation. After graduating in mediation from Harvard Law School, I became a coach and trainer for mediators. My three mediation books which contain strategies for conflict resolution are a result of my experiences and the techniques I have developed.
I do not believe that individuals themselves turn problems into conflicts. Rather, it is the social conventions and behavioural frameworks we operate in, which escalate  problems to undesirable conflict levels.
By understanding and adapting these frameworks, it is possible to bring people together to cooperate and eliminate the fear which lies at the centre of all conflicts.
My methodology in mediation is to help individuals understand the need to adapt their behaviour in the conflict situation. This creates an environment where energies can be re-channelled positively into a healthy working relationship between parties. mediation should be an educative process and aim to develop a shared understanding of the conflict.
The strategies I have developed and the experience I have gained enable me to successfully mediate in both business and private life conflicts. I am fluent in English as well as Danish and enjoy working with an international client base. I respect the confidentiality of both parties at all times when working within a conflict mediation.
Link to Tina Monberg's Curriculum Vitae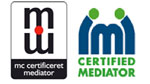 Pia Justesen
I am a lawyer specialising in employment law and corporate social responsibility (CSR). I have a research background and a PhD in international human rights and social responsibility. I believe in decency and orderliness as fundamental values – both with regard to personal relations and business conduct.
After graduating as a mediator with mediationcenter a/s I have experienced mediation as a very valuable way of solving conflicts. I truly believe that individuals involved in a conflict are the best to find a good solution. As a mediator I can help the parties to understand each other and to realise their common ground. Taking their common ground as a starting point, I can assist the parties to work together about the solution of their conflict and their future co-operation.
I am fluent in English as well as Danish and primarily mediate in business and employment conflict.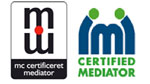 Mette Jacobsgaard
My academic background is in law, LLM and M.Phil in social and political science from Cambridge University, UK. I have 27 years of work experience living and working in Europe, Asia and Africa. My specific interests are in communication and collaboration between peoples of diverse cultural backgrounds as well as systemic conflicts arising from work with multiple realities.
I am a member of the NTL Institute for Applied Human Behavioural Science and work specifically with Appreciative Inquiry, systemic thinking, group dynamics and social constructionism. Human behaviour is decided by upbringing and culture and humans continuously make assumptions about the world and their fellow human beings from where they stand. When different cultures meet different and often conflicting assumptions are tested. I apply Appreciative Inquiry in my mediation and conflict resolution practice by focusing on what works in relations and thereby guide the parties towards a solution whereby both see their needs met, thereby creating a win-win solution.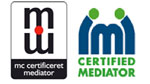 Ole Zinck  –  mediator & instruktør
I hold a Danish master's degree in social science (cand. scient. adm.) and have many years' experience in human resources, initially as a researcher and later in various HR management positions in private enterprises, including the LEGO Group and Danfoss A/S. For the past 10 years I have been the Vice President of Human Resources for Cheminova A/S with responsibility for the company's HR strategy. As well as being a member of the CSR committee of the Cheminova Group, I have served on numerous boards of directors and other committees over the years.
I believe that as individuals, we all have a duty to play an active role and to use our opportunities and talents to benefit ourselves and others. The best results are achieved when all members of a group work for their own interests and the common good. As I see it, mediation is a way of creating well-balanced companies and harmonious human relations. The resulting balance ensures economic, sustainable and social growth.
I am a certified mediator trained at mediationcenter a/s and believe that mediation is the mindset and technique that best ensures a balance between growth and sustainability. I am a member of the 'Ombudspersoner i Danmark' network for ombudsmen in Denmark.
As a mediator I can assist in identifying solutions that accommodate the needs and interests of all the parties involved. I mediate at individual, departmental and corporate level.